Taqueria
A perfect Downtown Disney stop for a quick Mexican bite, the Taqueria provides made to order tacos, nachos, and burritos. Choose from tender grilled adobo chicken, pork carnitas, marinated grilled steak, or our vegetarian fajitas. Breakfast burritos, made-to-order Chilaquiles and Huevos Rancheros, Fruit & Yogurt bowls, and other breakfast favorites are served every morning until 10:30am. Conveniently located near the monorail boarding area, grab a quick bite and finish it off with our house made aguas frescas, cold beer or a refreshing margarita. Boasting a colorful outdoor patio, the Taqueria provides food and fun all year long.
Downtown Disney District is home to the Taqueria, our quick service Mexican tavern. Easily accessible while walking to or from the park, Taqueria serves as a convenient restaurant option as you make your journey. Our colorful outdoor patio keeps the upbeat tempo of Disneyland and is not hard to miss when passing by. Enjoy a freshly made burrito and a savory margarita to finish off your day.
---
Visit Our Other Downtown Disney Restaurants
Catal Restaurant located in Downtown Disney Anaheim offers an American, Mediterranean-style menu with outdoor dining views of the Disneyland fireworks.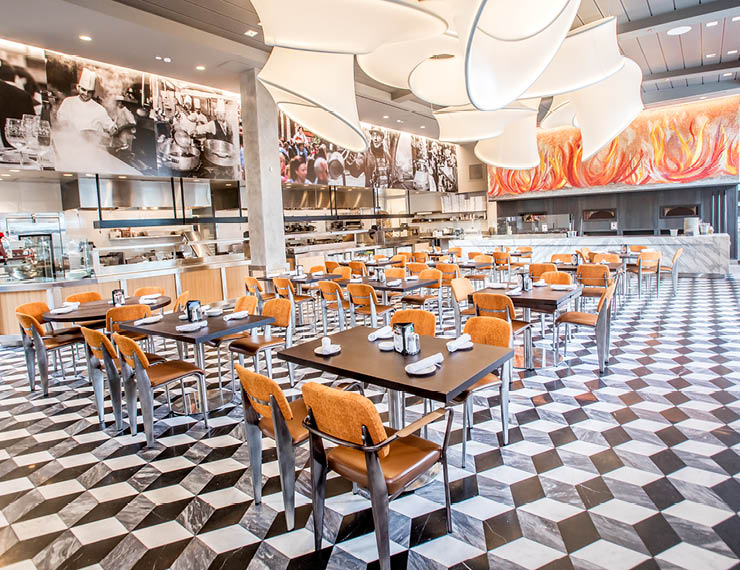 Naples Ristorante E Pizzeria is an Italian restaurant and bar in Downtown Disney, Anaheim serving pizza with outdoor dining in a fun family atmosphere.
Napolini offers quick service dining for breakfast, lunch and dinner in Downtown Disney Anaheim featuring dine-in or to-go options including pizza, sandwiches and salads.
Tortilla Jo's is a Mexican restaurant and tequila bar in Downtown Disney Anaheim offering outdoor dining and a large private event space.
Uva Bar & Cafe next to Catal Restaurant in Downtown Disney Anaheim serves breakfast, lunch and dinner featuring an outdoor bar serving craft beer and hand crafted cocktails.