LACMA Café
A day at the Los Angeles County Museum of Art calls for food that complements the surrounding art and beauty, and LACMA Café offers just that. Located in the Bing Courtyard, our casual dining restaurant has an assortment of items that provide quality fare during your visit. Choose from our many menu items including ever-changing hot dishes, our salad bar, warm-pressed sandwiches, or our daily chef specials. Our outside patio seating is a perfect setting to enjoy a relaxing view of the LACMA campus. For large groups, pre-order boxed picnic lunches that include a choice of gourmet sandwich or signature salad, a freshly baked cookie, and bottled water. LACMA Café is a wonderful place to grab a bite to eat while having a memorable experience surrounded by striking works of art.
The largest art museum on the West Coast, the Los Angeles County Museum of Art (LACMA) is home to a collection of galleries and exhibitions that feature the expanse of art history. From ancient to contemporary, LACMA holds the talent of many renowned and upcoming artists. With a mission statement of serving the public through significant works of art from a broad range of cultures and historical periods, LACMA attracts a wide array of captivating audiences. As a vital part of Southern California, the museum brings in over a million visitors each year. LACMA is located on Wilshire Boulevard, LACMA Café is located within the campus; ideal for a quick bite to keep you energized during your trip..
To receive more information about our private event options, please contact:
Catering and Special Event Sales
events@lacmacafe.com
---
Visit Our Other LACMA Restaurants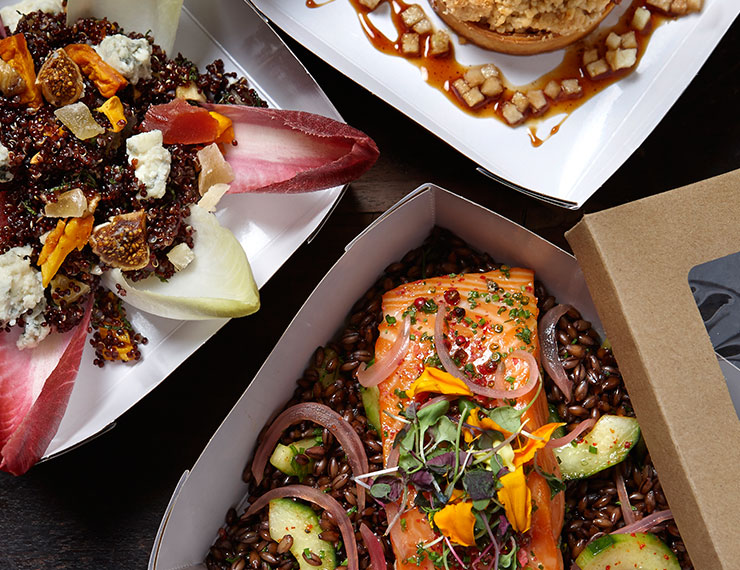 Ray's and Stark Bar at LACMA is a casual dining restaurant in Miracle Mile, Los Angeles serving seasonal fare and favorites for lunch, dinner & happy hour.
C+M (Coffee and Milk) LACMA is a popular cafe serving Intelligentsia coffee and small bites, located next to Urban Lights by the La Brea Tar Pits.